Eczema Ointment Natural Repair - Review
It's not often that family can come together professionally to take on one of the trickiest diseases around. But here we find the joint forces of a New York based dermatologist, Dr. Wang, and his father, an acupuncturist and herbalist, combining their strengths to produce a new eczema treatment called Eczema Ointment Natural Repair.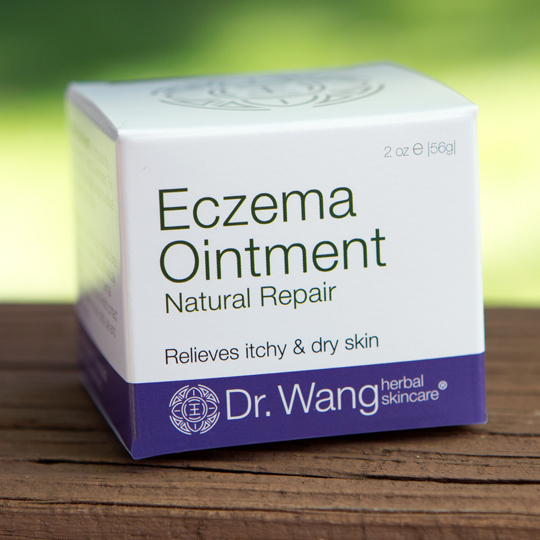 This is a natural and 100% steroid-free formula (worth celebrating!) containing several traditional Chinese herbs which have not only been treating skin ailments for centuries, but have also been scientifically researched and found to contain strong anti-inflammatory and anti-bacterial properties.
These key herbal ingredients are also complimented by skin soothing, rebuilding, and eczema-supporting ingredients including:
Castor oil
Used widely for its health benefits, castor oil can be taken orally or topically to help reduce inflammation and control bacterial infections.
The oil provides barrier protection for the skin by helping lock in moisture, and is also said to help boost the immune system by increasing the T-11 cells and lymphocytes thus upping the body's defences.
Ceramide
This fat molecule occurs naturally in the skin and is responsible for retaining moisture levels and keeping the skin youthful. While important for skin health, eczema sufferers were often found to harbor lower levels of ceramide than that of healthy skinned individuals.
Through various research, ceramides applied topically are said to help improve and reduce flare-up duration in people with mild to moderate eczema and through the increase of barrier function, can protect against certain environmental irritants as well as retain moisture.
Hectorite
As a rare and naturally mineral-rich clay, hectorite can help infuse the skin with much needed nourishment as well as helping remove harmful toxins from the system all while improving circulation.
Often found in cosmetics and beauty products, this ingredient when combined with the medicinal herbs can offer greater eczema-healing potential.
Olive oil
One of the most staple ingredients in every household, olive oil offers much more than just helping our food taste better. It comes with an array of internal and external health benefits that even extend to helping support the eczema covered skin.
Known to rarely cause irritation, olive oil possesses strong antioxidant properties which were found to discourage the production of inflammatory compounds. The added skin protection and moisturising benefits help round off another eczema fighting ingredient.
Vitamin E
Helping support the immune system and offering strong antioxidant value, Vitamin E has played a part in helping treat eczema symptoms through diet as well as topical treatments.
When applied to the skin, Vitamin E is said to help reduce the inflammatory symptoms of eczema and even nourish the body through the skins surface.
Eczema Ointment Natural Repair Conclusion
It's no secret to those living with eczema that the itch is something as close to hell as you'd imagine. It's something you're more than willing to rip your skin off for! So when a product comes along that has positive clinical results from all of its participants, it certainly has our attention.
After a while, Dr Wang and his father started receiving a lot of positive feedback from happy customers reporting almost instant itch reduction, which spurred on their motivation to set about conducting a clinical study on the anti-pruritic (itch) property of their new ointment.
The results gained from this study were clear, with subjects suffering from various itch-related skin ailments all reporting a reduction in this symptom all within just five minutes. In fact, it averaged to a 61% overall itch-reduction within that short amount of time.
With the backing of scientific research and the anecdotal evidence from its users, this new topical treatment looks to take us one step closer to much needed eczema-relief.
You can pick up Eczema Ointment Natural Repair from The Eczema Company or Amazon.