Welcome to Top Eczema Treatments
Hi everybody! I'm Mel and this is my site dedicated to the (not so wonderful) world of eczema.
As far fetched as it may sound, there are solutions to your skin condition - I'm living proof. I spent 33 years sifting through the good, the bad and downright stupid "can't believe I fell for that" treatment options. Today, I am feeling better than I ever thought possible and want to help other eczema sufferers as well as the topical steroid withdraw community bounce back to full health.
Here at Top Eczema Treatments, you will find my meticulously researched guides, tips, articles and products to help keep you informed and up to date on the most gentle and natural eczema treatments and Topical Steroid Withdrawal resources. You will also find a little bit of silliness, humor is a great source of healing!
Click on the video to see my story, subscribe for my irregular and haphazard updates and be sure to say 'hi' or ask me any questions.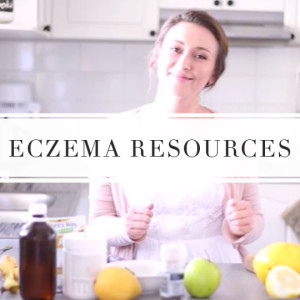 - Top Eczema Treatments Mission -
If you are here then you will already understand the amount of hard work (blood, sweat and tears) and money it takes to treat eczema.
Living with this condition is quite often debilitating, humiliating and heartbreaking and having had this condition my entire life, I understand this far too well. There are positives to be found and I am now dedicated to researching anything eczema related thoroughly as if my life depended on it (because it does!) and have even learnt a few things along the way through trial and error. Today I still continue to find new and better information for helping improve eczema.
We are so lucky to have this resource to share and discuss our experiences and educate each other on ways to alleviate suffering. That is why I am committed to updating this site regularly with articles on the best and most highly regarded forms of treatments for eczema, as well as information on areas which can have detrimental affects. Because healing eczema is not always black and white so understanding there are many facets of your life which can be addressed is only going to empower you.
Top Eczema Treatments is a one stop location for all the methods we have researched and found to help control, improve or even heal eczema, in the most natural ways possible.
You'll find everything from bathing options (such as oatmeal baths, bleach baths, epsom salts, etc.) to lotions (such as Aloe vera, Vaseline, etc.) to dietary information (supplements, vitamins, supergreens, oils, etc.) to useful tips (200 eczema treatments, eczema quotes, eczema in babies, etc.) and of course information on topical steroid withdrawal. 
I also highly recommend you check out my resources page for the things that assisted me with my eczema and topical steroid withdrawal journey.
Please note: The information presented throughout this site is provided to those suffering from eczema and Topical Steroid Withdrawal, it is NOT intended to be medical advice. The content has been either trialed, tested or researched by the authors/s, but is not and should not be relied upon as medical advice. Any medical questions or concerns should be addressed with a healthcare professional. Never avoid or delay seeking medical advice or disregard medical advice based upon information provided on this website.The publisher of this site is not responsible for any errors or omissions in any content herein.